Born in 1988, its vocation was then to relaunch the production of farm cider in Haute-Normandie after years of dwindling orchard-planting and cider production in the region. Since 1990, the educational operation has served as a field of application for students and has earned a place for itself among the great cideries by joining the list of "Cuvées Prestiges-Cidres des Pays de Haute-Normandie".
Today, practicing entirely organic farming, Domaine de Merval works on a daily basis toward an autonomous and economical system which aims at the maximum of interactions that emphasize the "Human - Soil - Plant - Animal - Transformation" system.
A collective of 10 people work on the different workshops of the farm: The people who work on the farm are paid through our agricultural activities. Passionate about their vocation, they pass important skills on to high school students.
The Estate covers 120 hectares where permanent meadows, temporary multi-species meadows, grain fields, as well as haute-tige and basse-tige orchards.

100 Norman dairy cows enhance our "all grass" system, the herd is in full pasture for nine months of the year.
We also cultivate meteils grains (combinations of cereals and protein crops) to supplement the animals as needed. Thus, we ensure maximum autonomy and traceability.
90% of the milk is processed into Coeurs de Neufchâtel AOP Bio Fermiers au Lait Cru (approximately 220,000 pieces / year). The other part of the milk is sold to the Biolait structure.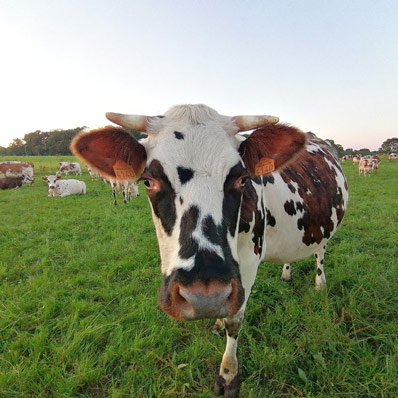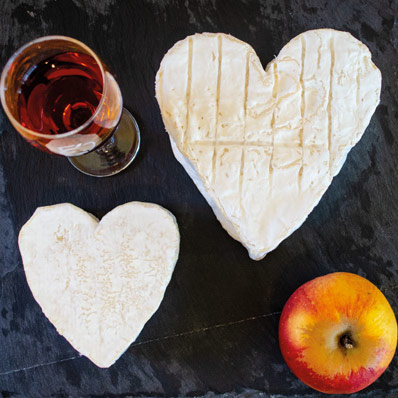 12 hectares of cider orchards to produce: apple juice, apple-strawberry, sparkling, sour, Cider and also two renowned AOCs: Pommeau de Normandie and Calvados.
The farm serves as technical and educational support for the school, which explains the presence of a conservatory orchard (more than 420 old varieties listed) and an educational flock of sheep (10 ewes).